We develop monopropellant, bi-propellant, and hybrid propellant hydrogen-peroxide propulsion systems for in-space and access-to-space applications for small satellites.
Product in the market
ALPHARD MONOPROPELLANT​
We developed three classes of ALPHARD monopropellant propulsion systems (i.e., 10 N, 20 N, and 200 N). Of the 10 N and of the 20 N class we have also a High-Pressure version of the thruster considering the highest feasible value of the inlet pressure range.​
We committed to green propellants, thus using hydrogen peroxide at 90 w% concentration (even though we can reach up to 95 w%).


Product under development
KUMA BIPROPELLANT​
Bipropellant HTP-Kerosene propulsion systems providing from 1 to 500 N of thrust, scalable to few kN. Our KUMA bipropellant propulsion systems can be fully customized on thrust, expansion ratio, and accommodation to address specific customer needs and compared to currently available MMH-N2O4 units they represent a considerable trade-off between costs and performances.​
Product under development
TEIDE HYBRID ROCKETS
Chemical hybrid propulsion systems, based on HTP and paraffin wax, for micro-launchers, small upper stages, and sounding rockets. TEIDE propulsion systems can provide from 100 N to 10 kN of thrust, but they can also be fully customized and different types of solid fuels can be used depending on system requirements. We have been casting fuel grains up to 200 kg, acquiring a wide expertise on fuel types and properties.​

HTP TECHNOLOGY ADVANTAGES
Our key technology for the oxidizer is highly-stabilized hydrogen peroxide, that is an extremely interesting propellant for chemical propulsion applications for several reasons: ​
Green​
non-toxic respect
REACH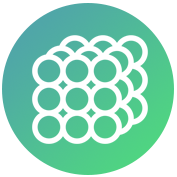 Storable ​
at ambient​
pressure​
Versatile​
Suitable for​ monoprop, biprop,​ and hybrid ​thrusters.​
We perform in-house concentration of our hydrogen peroxide, thus eliminating the transportation issues of highly concentrated H2O2 and allowing us to operate with a concentration level up to 95%. ​


FUEL
We use paraffin wax for our hybrid propulsion systems. Paraffin wax is a green fuel. In combination with H2O2 as oxidizer, exhaust gases are water, steam and CO2. Thanks to its liquefying characteristic, it provides high regression rates, thus allowing simple single port fuel grains. Our paraffin has thermomechanical performance able to withstand launch vibrations and in-orbit temperature stresses. We can use also polyethylene and polyethylene/paraffine blends depending on customers' request and on mission specifications.
For our bi-propellant propulsion systems we use kerosene as green propellant.
ALPHARD, KUMA and TEIDE propulsion systems can cover satellites multiple needs. ​
TIMELINE
FUNDED PROJECTS
We are developing chemical rocket motors since 2006.
The research and development took place through different research programs, both financed internally and within FP7/H2020 programs in cooperation with major Aerospace companies.
Flight of a 20 kN N2O-paraffin hybrid booster funded by major aerospace company.
SPARTAN FP7 European program. Consortium coordinated by Thales Alenia Space.
Start of current activities with hydrogen peroxide funded by major aerospace company.
Development of a flight demonstrator.